Dry Systems
Processing Module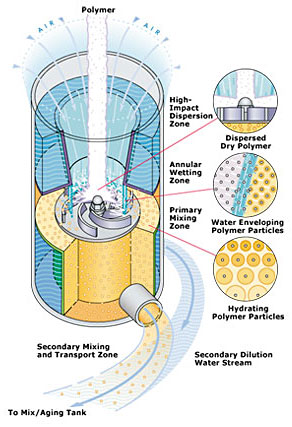 Aqueous Dispersion Process
The Powdercat features a modular design which includes the Powdercat (Powder) Processing Module, control panel, volumetric feeder, and hermetically sealed bladed rotor assembly. All are maintenance free and built for easy access and serviceability.
A continuous stream of water forms an annular wetting zone around the dry/liquid interface.
A powerful "burst" rapidly accelerates dry particles, at maximum separation, through the annular wetting zone interface.
Each particle is instantaneously surrounded and penetrated by water, upon impact, resulting in the most complete dispersion achievable.
High-impact dispersion creates an induced air flow that eliminates the need for blowers, pumps, transport devices, and additional dust suppression or collection systems.
The induced air flow scrubber traps polymer dust particles in the Powdercat Processing Module, achieving 100% capture and wetting of even the finest dry powder products.
The Processing Module motor is an all-stainless, hermetically sealed design, ensuring reliable, maintenance-free service, and unparalleled longevity.
High Impact Polymer Dispersion
It takes a powerful force to reliably produce the highest quality solution or slurry for water, process, and waste water treatment. With Norchem's Powdercat you'll immediately see the difference.
Greater Process Efficacy
Reduced Operating Costs
Efficient Chemical Usage
No Maintenance Burdens
Scales to Growing Process Demands

High-speed photos depicting the bladed rotor at the moment of impact with cascading dry polymer stream. The increasing particle angular velocity imparted by the rotor is rapidly intensified to over 3600 feet per minute — prompting frequent collisions and uniform polymer separation prior to wetting.